4MIX Portable 4/2 field mixer
Amazing 20/30 hours operation per battery set,
reliability --- security --- autonomy
for video, movie production and on location classical music recordings

Download the BLOCK DIAGRAM with Adobe Acrobat (72Ko)

Download the LOCATION DIAGRAM with Adobe Acrobat (72Ko)

NEW : "VARISTAGE" (tm) STEREO boom remote control
Allow to control two separate ouput channels separately or with one knob only (LINK)
ideal for stereo MS booming with only one knob on the boom !
Also, allow to control two groups of microphones : 2x 2 mics, or 1x 1 mic + 1x 3 mics, or 1x 1 mic + 1x 2 mics, or 1x 4 mics in two independants groups.
Internal limiters of the 4Mix can still operate to provide a total modulation security
provision for remote visual control of the remote volume action (Led or meter in the field of view of the boom operator)
outstanding 38dB volume control range
NEW 4Mix V2 FEATURES available DECEMBER 2005
VARISTAGE remote control
MS matrix decoding on phone monitor selector
TAPE / MUTE / DIRECT selector in front
PHASE revert switch on input 2 (in place of Mic / line Pad)
LINK switch to control a stereo pair on input 2 knob
LIMITER LED in front to control the limiter action
NEW PAN control knobs for better operation
KEY FEATURES
ultra high-efficiency circuitry allows the mixer to run for at least 22 hours with 48V powered microphones and up to 32 hours with dynamic or 12V powered microphone with a single set of alkaline batteries. This means nearly a week of work where the other well known mixers start hissing after a few hours with new batteries.
battery cost per hour 2 to 5 times lower than competitors
discret transistor ultra low noise input stage (zero horrible SSM2017/2019 !!)
all controls accessible on the 3 faces. No hidden controls inside nor on top or on bottom side
Easy access to all control even with gloves on. Large rotary faders, well separated from each other made for the adult hand
23 switchs allow more than 550.000 different settings.
individual phantom power choice 12/0/48 V per channel
individual peak LED per channel
big 36mm Vumeters with permanent light control for a perfect visibility in all lighting conditions from bright sunlight to dark
optical output limiters studio quality (zero VCA ....)
true PANPOT potentiometer per channel
sturdy aluminum and steel chassis : passes under car's tires with no problem
easy maintenance : ZERO surface mount devices (SMD)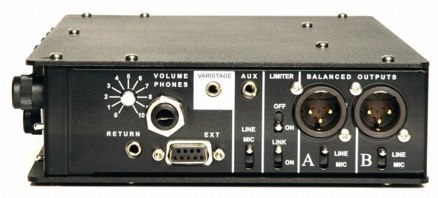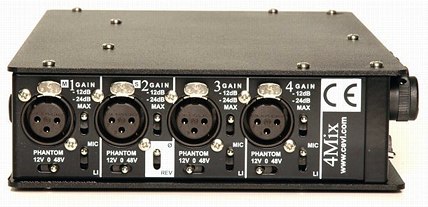 Developed with input from the industry's top audio engineers, the 4MIX Field Mixer encompasses the audio performance, feature set, and mechanical construction demanded by those who rely on audio gear for their livehood.

4MIX is designed to withstand the physical and environmental extremes of field production. Its compact mechanic construction strikes the perfect balance between access to all fonctions (even wearing gloves), uncluttered design, and durability. All controls are located on the front and side panels and are ergonomically laid out for operator convenience.

Far from the mad-science of compurerized today's jewels (and tomorrow from the past), 4MIX mixer has been designed for ease of operation, reliability, and outstanding audio quality.
4MIX is dedicated to:

the ones who are fed up with the clumsy sound of professional mixers (portable or not ...)
the ones who are fed up to replace batteries one or two times a day (...)
the ones who are fed up to program a computer to get some sound (Sound Devices, Sony, ...)
the ones who are fed up with plastic switches (Rolls, Cooper, Sound Devices, Shure, ...)
the ones who are fed up to set up the mixer with a screwdriver (Shure, Rolls, Sound Devices, Cooper, SQN,...)
the ones who are fed up to put the mixer out of its brace to access to some controls (SQN, ...)
the ones who are fed up to adjust bargraph luminosity each minute (Sound Devices, Went, ....)
the ones who prefer serviceable products (!!! ....)
to the ones who prefer to spare and buy better microphones (DPA, Shoeps, AKG, Sennheiser MKH, Neumann ...)
to the ones who have something between the ears (;-)
to all the ones that sound, voices and music can move ....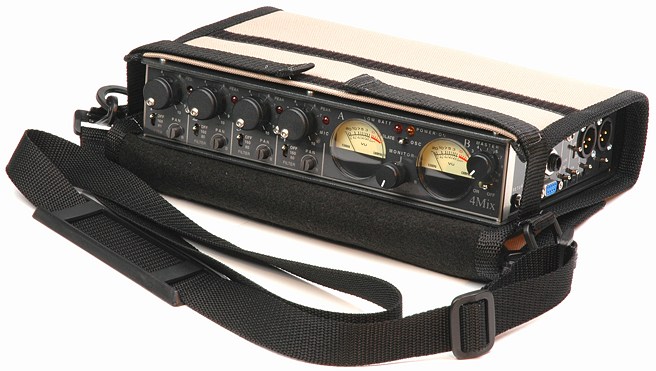 TECHNOLOGY TO SERVE TRANSPARENCY
All internal sound pollution sources have been avoild :

zero CMOS logic switches
zero switching transistor on the signal path
zero poor sounding SSM2017/2019 input stage
zero switching power supply ( DC/DC converter)
zero computer onboard (CPU)
zero screen
zero LED bargraph
zero voltage controled amplifier (VCA)
zero digital converter (AD & DAC)
zero internal wiring with their connectors
zero surface mount component : poor linearity and hardly serviceable
zero multilayer circuit board : non serviceable at all !
zero hard to find or dedicated components
etc...

extensive use of mylar capacitor, much more expensive and reliable and also much better for the sound.
All connectors, switches and components are in direct contact : where is no wire nor internal connector on the signal path. This is to preserve the sound purety.
ALPS and VISHAY SPECTROL high quality potentiometers
NEUTRIK gold plated connectors
All professional metal toggle switches (Nagra style)
This makes the 4MIX an absolutely unique product for transparency compared to all its competitors.
DON'T BELIEVE, JUST LISTEN !!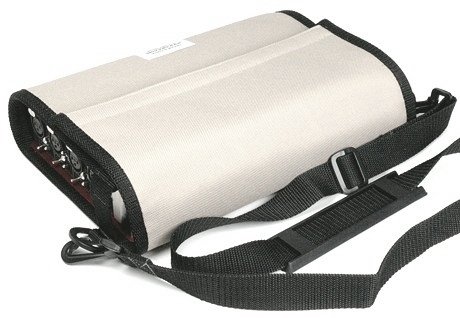 FEATURES 4Mix V2
LEFT SIDE PANEL:
Four XLR inputs
Mic gain selectors (3 positions)
Mic to Line Pad attenuators (inputs 1, 3, 4)
Phase revert (input 2) 4Mix V2 only
Mic power selectors phantom 12, dyn, 48
RIGHT SIDE PANEL:

3-pin XLR's - Balanced, left, right outputs
Mic/Line Switches for each XLR output
Minijack 3,5mm unbalanced auxiliary out outputs for DV cameras or recorders
Auxiliary Mic/Line pad
Minijack 3,5mm connector for VARISTAGE remote control knob 4Mix V2 only
Minijack 3,5mm Return - for camera/recorder monitor
9-pin extension connector for hardwire connection to recorder
Headphone level control
Headphone jack
Limiter on
Link on
FRONT PANEL:
Four input channel sections including:
Pan pots with new knobs 4Mix V2 only
3 positions High pass filters
Peak indicators
Level control
LINK switch : 1 to 2 4Mix V2 only
Output Section includes:
Slate microphone
Master level control
Slate and oscillator switches
Battery status Led
limiter action monitor LED 4Mix V2 only
Internal/external power switch
Analog meters
Headphone monitoring selector
L only, R only, Stereo, MS matrix, Mono, Reverse stereo
Tape / Mute / Direct switch 4Mix V2 only
ADDITIONAL FEATURES
VARISTAGE (tm) boom remote control capability 4Mix V2 only
Transformerless inputs and outputs
Outstanding battery life time
Automatic meter illumination
OPTIONAL FEATURES
Betasnake
Portmix handing bag
SPECIFICATIONS

Internal batteries: 12x AA cells
Battery Life: up to 32 hours (Alkaline)
THD + N (20-20 kHZ): 0.01% (Typ. 0.005%)
EIN : -128dBu lin./-130dBu 'A' wt'd.
Weight: 3.5 Ibs
Size: 9.8 x 6.5 x 1.9 inches
(All specifications in this brochure are subject to change without notice.)
CEVL - 42, Rue de la République - 37230 Fondettes - France
tel +33 (0) 247 49 70 92 - fax +33 (0) 247 49 70 91
Copyright 1996-2005 © CEVL Marketing Dpt. All rights reserved
back